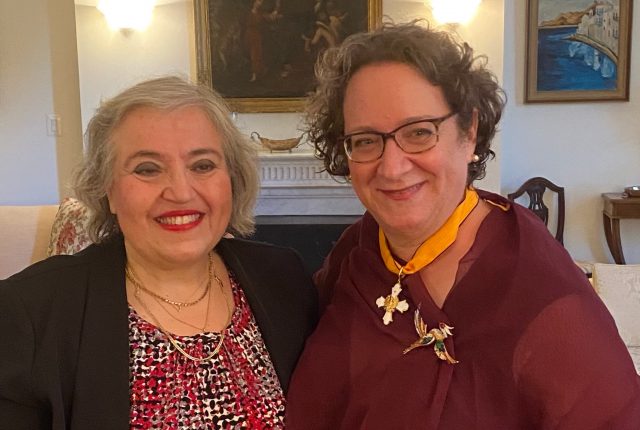 UCLA Stavros Niarchos Foundation Center for the Study of Hellenic Culture (UCLA SNF Hellenic Center) Director Sharon E. J. Gerstel, for her contributions to the promotion of Hellenic Culture, has been named a Commander of the Order of the Phoenix, one of Greece's highest honors. In April, Dr. Gerstel was bestowed with honorary Greek citizenship, which took place at the Consulate General of Greece in Los Angeles.
"I am humbled by this distinction," said Dr. Gerstel. "My love for the country runs very deep and my heart is with its people. I am thrilled to have made even a small contribution to the study of the country's illustrious past and to share this honor with so many worthy Greeks and Philhellenes. It is my singular honor, as Director of the UCLA SNF Hellenic Center, to promote Hellenism and to bring together intellectual and cultural communities in Southern California and Greece."
On Thursday, June 24, in Washington, DC, Her Excellency Alexandra Papadopoulou, Ambassador of Greece to the United States, bestowed the award on Dr. Gerstel and Dr. Donald Kagan, Sterling Professor Emeritus of Classics and History, Yale University. Other dignitaries in attendance included the Consul General of Greece in Los Angeles, Evgenia Beniatoglou. The Ambassador of Greece to the U.S. hosted the ceremony and dinner at her residence.
"It is an honor for me to confer upon these two scholars the Commander of the Order of the Phoenix medal, which is conferred upon individuals who excel in the arts and literature, science, and other fields, and as a result, help us better understand the world and Greece's message to the world," said Her Excellency Alexandra Papadopoulou, Ambassador of Greece to the United States. "Through Dr. Gerstel's leadership in founding the UCLA Stavros Niarchos Foundation Center for the Study of Hellenic Culture, she has brought together the diverse Hellenic communities of Southern California in the greater appreciation of Greek language and culture…We're grateful and very appreciative of the work that helps us understand better our country, our history, and our culture."
Established in 1926, the Order of the Phoenix is awarded to Greeks who have distinguished themselves in the fields of public administration, science, commerce, industry and shipping, and the arts and letters. It is also conferred on non-Greek citizen who have contributed to enhancing Greece's stature abroad in the aforementioned fields.
"On behalf of everyone at the Stavros Niarchos Foundation (SNF), we are delighted to express our warmest congratulations to Dr. Gerstel on this extraordinary and well-earned honor," said Stelios Vassilakis, Chief Programs and Strategic Initiatives Officer at SNF. "Over the years and throughout her academic career, she has demonstrated a deep commitment towards engaging and promoting Hellenism that goes far beyond the boundaries of the classroom and academia. As Director of the UCLA SNF Hellenic Center, Sharon has succeeded not only in bringing together UCLA's previously disparate Greek-related academic pieces, but also in successfully engaging and energizing the local community and building bridges with Greece—creating in this way a paradigmatic hub of scholarship and public engagement."
Dr. Gerstel is professor of Byzantine Art and Archaeology at UCLA and is the George P. Kolovos Family Centennial Term Chair in Hellenic Studies. Trained in art history, religious studies, and archaeology, Gerstel's work investigates ritual, art, and material culture as well as acoustics and cultural heritage. Her authored and edited books include Beholding the Sacred Mysteries (1999), A Lost Art Rediscovered: The Architectural Ceramics of Byzantium (2001), Thresholds of the Sacred: Art Historical, Archaeological, Liturgical and Theological Views on Religious Screens, East and West (2007), Approaching the Holy Mountain: Art and Liturgy at St. Catherine's Monastery in the Sinai (2010), and Viewing the Morea: Land and People in the Late Medieval Peloponnese (2013). Her most recent monograph, Rural Lives and Landscapes in Late Byzantium: Art, Archaeology, and Ethnography (2015), was awarded the prestigious Runciman Award by the Anglo-Hellenic League, the Maria Theocharis Prize by the Christian Archaeological Society, and the inaugural book prize of the International Center of Medieval Art. She has authored dozens of articles in international journals. Her ongoing research focuses on acoustics, architectural design, and chant in medieval churches. At the same time, she has worked intensively to preserve medieval buildings in Greece, particularly in rural settings. She is frequently sought out as a commentator on contemporary issues of cultural heritage in Greece and Turkey and has appeared in numerous radio and newspaper interviews.
Trained at Bryn Mawr College, Aristotle University in Thessaloniki, Greece, and the Institute of Fine Arts/New York University, Professor Gerstel was awarded a J. Simon Guggenheim Fellowship in 2011-2012 and a Mellon Fellowship at the Institute for Advanced Study, Princeton, in 2010-2011. She has also won fellowships from the National Endowment for the Humanities, the Getty Research Institute, and Dumbarton Oaks in Washington, DC. Gerstel has served as Executive Producer of a film, Blessings and Vows. Related to this creative work, she is currently writing a cultural biography of women in the Mani.
As inaugural Director of the UCLA SNF Hellenic Center, Gerstel led a team that raised in excess of $4 million to establish a cultural center with international standing. The Center, under her guidance, has established international partnerships and has showcased the work of contemporary Greek authors and artists in addition to scholars working in historical fields.