Celebrating Hellenic Authors: Linda Reid and Deborah Shlian
July 11, 2020 @ 10:00 am
-
12:00 pm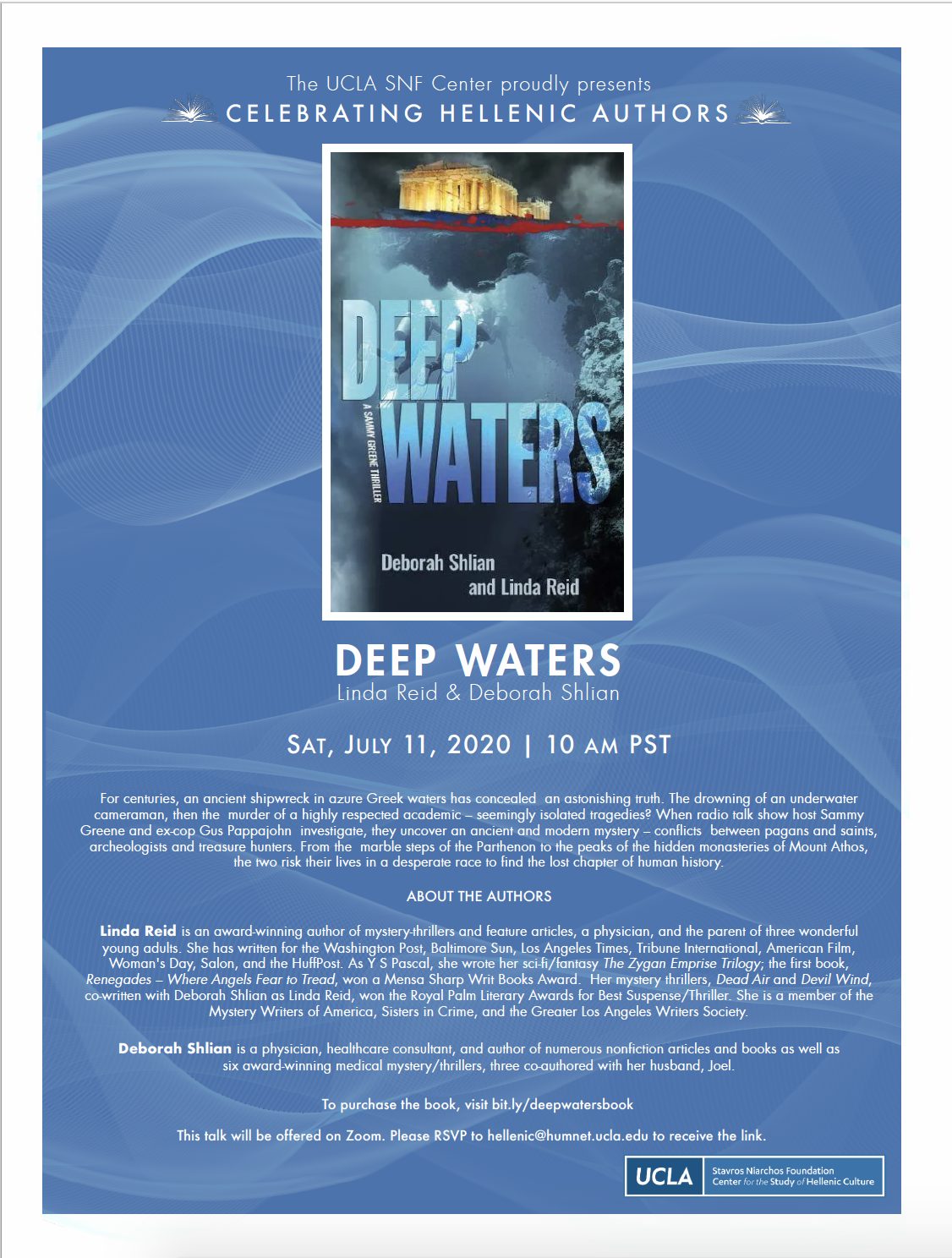 Authors Linda Reid & Deborah Shlian discuss their most recent book, Deep Waters.
For centuries, an ancient shipwreck in azure Greek waters has concealed  an astonishing truth. The drowning of an underwater cameraman, then the  murder of a highly respected academic – seemingly isolated tragedies?  When radio talk show host Sammy Greene and ex-cop Gus Pappajohn  investigate, they uncover an ancient and modern mystery – conflicts  between pagans and saints, archeologists and treasure hunters. From the  marble steps of the Parthenon to the peaks of the hidden monasteries of Mount Athos, the two risk their lives in a desperate race to find the  lost chapter of human history.
To purchase the book: https://www.amazon.com/dp/B07NBTZMTB/ref=dp-kindle-redirect?_encoding=UTF8&btkr=1
Linda Reid is an award-winning author of mystery-thrillers and feature articles, a physician, and the parent of three wonderful young adults. She has written for the Washington Post, Baltimore Sun, Los Angeles Times, Tribune International, American Film, Woman's Day, Salon, and the HuffPost. As Y S Pascal, she wrote her sci-fi/fantasy The Zygan Emprise Trilogy; the first book, Renegades—Where Angels Fear to Tread,won a Mensa Sharp Writ Books Award.  Her mystery thrillers, Dead Air and Devil Wind, co-written with Deborah Shlian as Linda Reid, won the Royal Palm Literary Awards for Best Suspense/Thriller.  She is a member of the Mystery Writers of America, Sisters in Crime, and the Greater Los Angeles Writers Society.
Deborah Shlian is a physician, healthcare consultant and author of numerous nonfiction articles and books as well as six award winning medical mystery/thrillers, three co-authored with her husband, Joel.
RSVP: hellenic@humnet.ucla.edu