Makriyannis Unplugged – Adapted, Directed and Performed by Yorgos Karamihos
March 26, 2022 @ 7:00 pm
-
8:30 pm
Freud Playhouse,
245 Charles E Young Dr E.




Los Angeles

,

CA

90024

United States
+ Google Map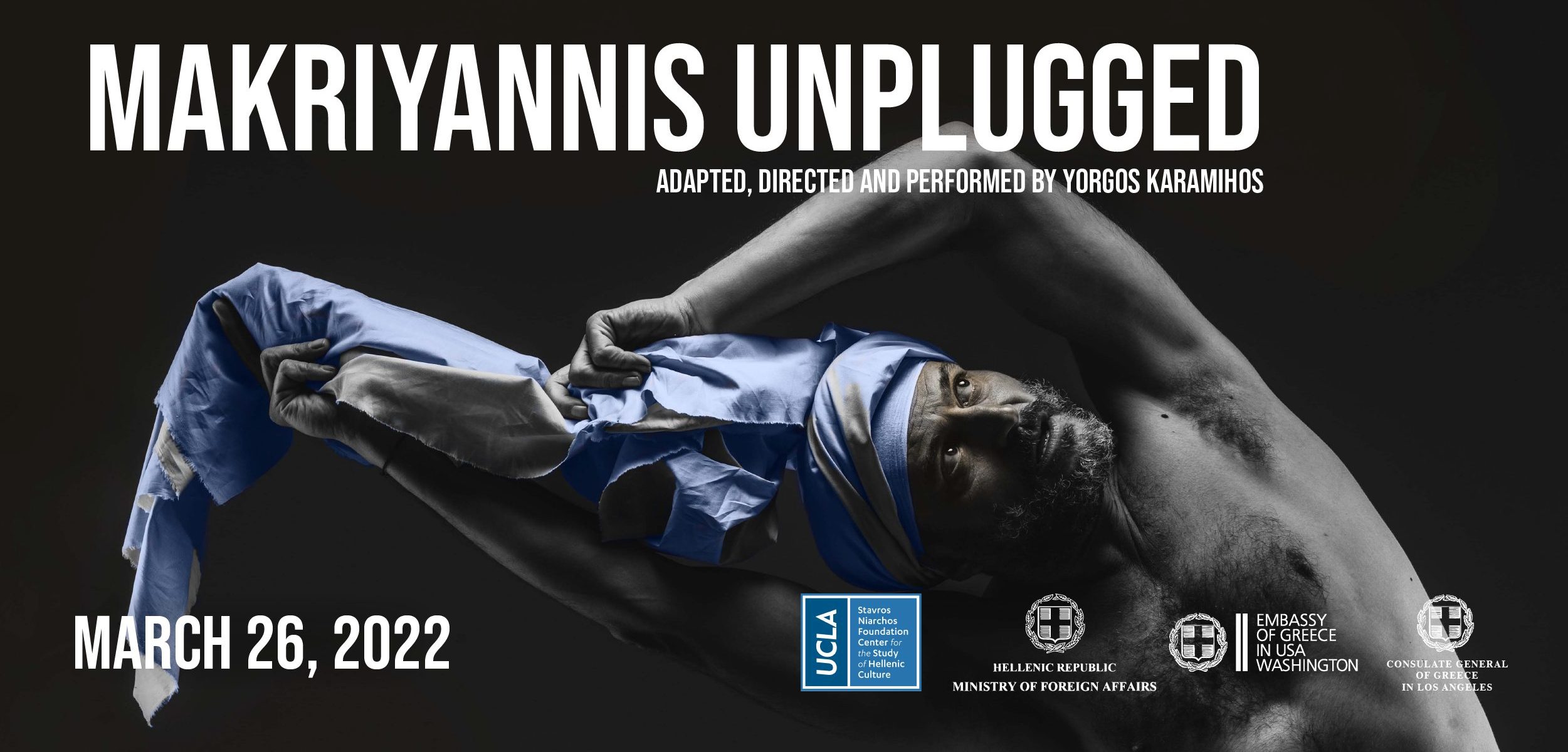 Celebrated director and actor Yorgos Karamihos pays tribute to General Yannis Makriyannis, the hero of the 1821 Greek Revolution, in a show that tells the story of a nation in revolt and an individual in the process of self-formation. Adapting selected passages of Makriyannis' Memoirs, a seminal work of Modern Greek letters, Makriyannis Unplugged renders the Greek hero of the nineteenth century our contemporary, a figure rooted in a local tradition but with a global significance. The work by Karamihos offers a raw theatrical experience that resonates with Makriyannis' spirit, challenging and enriching our understanding of freedom, community, duty, and creativity.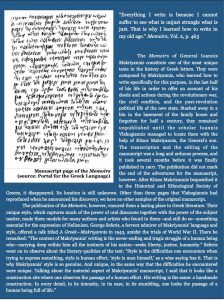 Yorgos Karamihos is an acclaimed actor, director, and acting teacher, born and raised in Northern Greece. He has graduated from the Ioanian University with a degree in Philosophy & History,  as well as from The Greek National Theatre Academy. In 2012 he received a Fulbright Scholarship as an exceptional artist to attend the full-time program at the Stella Adler Academy in Los Angeles, where he was immediately offered to teach his own acting technique applied on Ancient Greek drama and A. Chekhov as well as theatre history. His credits as an actor include over thirty theatre productions from ancient Greek dramas and Shakespeare to Anton Chekhov, Tennessee Williams, and other classical and modern plays. He has also appeared in more than thirty feature films and numerous TV series such as The Durrells in Corfu, Bulletproof, Genius (Picasso) among others. Karamihos has also directed multiple theatre plays in several major venues in Greece and the USA. In 2008 he received the national award as Best Stage Actor of Greece. He has translated plays and books from English, French, and Spanish into Greek and has published several theatre plays.
Performance Dates
Los Angeles: March 26, 2022 at 7:00 PM | Vancouver: April 3, 2022 at 6:00 PM | Athens: April 14, 2022 at 6:30 PM & 9:00 PM
Vancouver: April 3, 2022 at 6:00 PM
Athens: April 14, 2022 at 6:30 PM & 9:00 PM
Los Angeles Tickets: https://tinyurl.com/ycysp3dj ($25/$35; free for students at Los Angeles universities). Our Covid attendance policy is stated on the ticket site.
This performance is in English. Help us save paper by reading the program booklet here.
Please be aware that UCLA Covid protocols require all attending the performance to show proof of vaccination or a negative Covid test within 72 hours, and to wear masks inside the theater.
Parking information for ticketholders: The Freud Playhouse is located in Macgowan Hall at UCLA. Please park in Parking Structure 3, which is near the theater at the northeastern corner of the campus, close to Hilgard Ave and Sunset Blvd.
To save time, you may purchase your parking permit for $14 in advance using Bruin ePermit: https://bruinepermit.t2hosted.com/pnw2/selectevent.aspx. Select UCLA Campus Event, then Makriyannis Unplugged. With the advanced parking permit, you can park anywhere in Parking Structure 3. For instructions on how to use this portal, please click here.
To purchase a permit at Parking Structure 3, please park in the Pay-By-Space/Visitor Parking area in the north building, and proceed to the Self-Service Pay Station machine.
No parking attendants will be on site at the parking structure, so please allow extra time for parking and walking to the theater.
We welcome you to celebrate Greek Independence Day before the performance with a glass of wine. We thank the Consulate General of Greece in Los Angeles for their sponsorship of this reception.