Gefyra (Bridge): Elevating Innovative Ideas, Culture, and Arts – Visual Identity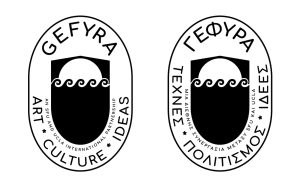 In June 2022, with support from the Stavros Niarchos Foundation (SNF), the UCLA SNF Center for the Study of Hellenic Culture and the SNF Centre for Hellenic Studies at Simon Fraser University established Gefyra (Bridge), a collaborative program aimed at enhancing academic mobility across the West Coast and between the West Coast and Greece. Gefyra's mission is to connect students, faculty, and communities along the West Coast of North America with Greek scholars, artists, and other creators, so that they can together explore expansive and imaginative approaches to Greek culture and knowledge production. The program additionally supports academic conferences and cultural projects that bridge the West Coast and Greece.
Gefyra's visual identity and name encapsulate the spirit of collaboration between UCLA and SFU and the objectives of the initiative. By working in unison, the mission of these two institutions is further magnified through a diverse and collaborative process that stimulates creativity and fosters innovation and new ideas. The logo (depicted) highlights our shared commitment to promote the study of Hellenism along the West Coast of North America and beyond. The name of our partnership and the key image of our logo—inspired by historic bridges in Greece—signifies the connection between our institutions, while also serving as a bridge between communities, students, and global knowledge translation. The water element in the logo—derived from an ancient Greek ornamental pattern—serves as a reminder that the program is generating waves on the West Coast, disseminating innovative ideas, cultural elements, and arts internationally. Let Gefyra be the bridge to elevate culture, art, and ideas on a regional, national, and international scale.