Makriyannis Unplugged will Debut at UCLA
November 7, 2021
The UCLA Stavros Niarchos Foundation Center for the Study of Hellenic Culture (UCLA SNF Center) has been awarded a grant from the U.S. Embassy in Greece to support the Athens' performance of Makriyannis Unplugged, a contemporary retelling of the life and memoirs of Yannis Makriyannis, who played an essential role in the 1821 Greek War of Independence. Written and performed by actor and director Yorgos Karamihos (The Durrells in Corfu; Fugitive Pieces; Like Chef, Like God), the play premieres at UCLA on November 7, 2021.
"The U.S. Embassy's support for Makriyannis Unplugged helps to tell the compelling story of this crucial character in Modern Greek history," said Sharon Gerstel, director of the UCLA SNF Hellenic Center, professor of Byzantine Art and Archaeology, and the George P. Kolovos Family Centennial Term Chair in Hellenic Studies. "Under Yorgos Karamihos' creative guidance, the production will speak to a wider audience and educate all generations about this celebrated individual and his contributions. We are grateful to the U.S. Embassy in Greece for their generosity, and look forward to collaborating on this inspired production."
The performance explores the life of General Yannis Makriyannis, who is regarded as the key figure in the 1821 Greek War of Independence, and a leading agent in the creation of the first Greek Constitution in 1844. This contemporary interpretation of the Memoirs of Yannis Makriyannis and his contributions to the War of Independence sheds light on the historical events that led to the creation of the Modern Greek state. The performance is held under the auspices of the Greek Ministry of Foreign Affairs and with the support of the Consulate General of Greece in Los Angeles.
"Makriyannis has always been a beacon in my life," said Yorgos Karamihos. "A beacon of compassion, clarity, struggle, creativity, and love. He reinvented himself in order to achieve his ultimate goal. No excuse, no obstacle is enough to stop him from fighting for freedom—spiritually, emotionally, physically. Liberation is his journey. Hopefully, it will be ours too, through this production."
"I am delighted to include the Makriyannis Unplugged performance in the U.S. Embassy's campaign, 'USA & Greece: Celebrating 200 Years of Friendship,' which highlights the role of American Philhellenes in the Greek Revolution and the bonds of mutual respect and shared values that unite our peoples. Greece's bicentennial is an opportunity for the United States to celebrate our historic friendship with Greece and chart an agenda for our shared future. Our partnership with the UCLA SNF Center builds on the already strong bonds between Greek and American academic and cultural organizations," Ambassador Geoffrey R. Pyatt noted.
The November 7 UCLA premiere of Makriyannis Unplugged will be the culminating event of an international conference, "New Dimensions of 1821," from November 4-6, 2021. Held under the auspices of the Greece 2021 Committee, the conference will take place at California State University-Sacramento, UC Berkeley, and Stanford University.
Following the UCLA opening, Makriyannis Unplugged will travel to Vancouver for a Remembrance Day weekend performance under the sponsorship of the Centre for Hellenic Studies at Simon Fraser University, and then to Athens, where the final performance on December 9 will be hosted by the Gennadius Library of the American School of Classical Studies at Athens.
About Yorgos Karamihos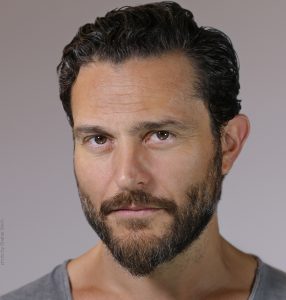 Yorgos Karamihos (playwright and performer) is an actor, director and acting teacher, born and raised in Greece. He graduated from the Philosophy and History Department of Ionian University and The Greek National Theatre Academy. In 2012 he received a Fulbright Scholarship as an exceptional artist to attend the fulltime program at Stella Adler Academy of Acting in Los Angeles. He has played lead roles in more than thirty theatre plays including ancient Greek dramas, Shakespeare, Anton Chekhov, Tennessee Williams, etc. He has also appeared in more than thirty feature films and twelve television series, including, recently, The Durrells in Corfu. Since 2008, he has directed eight theatre plays in several major venues in Athens. He was awarded best stage actor of Greece in 2008. He has translated from English and Spanish into Greek and has published several theatre plays. Karamihos recently met with Ambassador Geoffrey Pyatt to discuss his work as a playwright and performer.