Emilio Capettini, "'The Dolphin-Haunted Artifacts of Dimmed Atlantis:' Evocations of Graeco-Roman Antiquity during the HIV/AIDS Crisis"
November 15 @ 5:00 pm
-
6:30 pm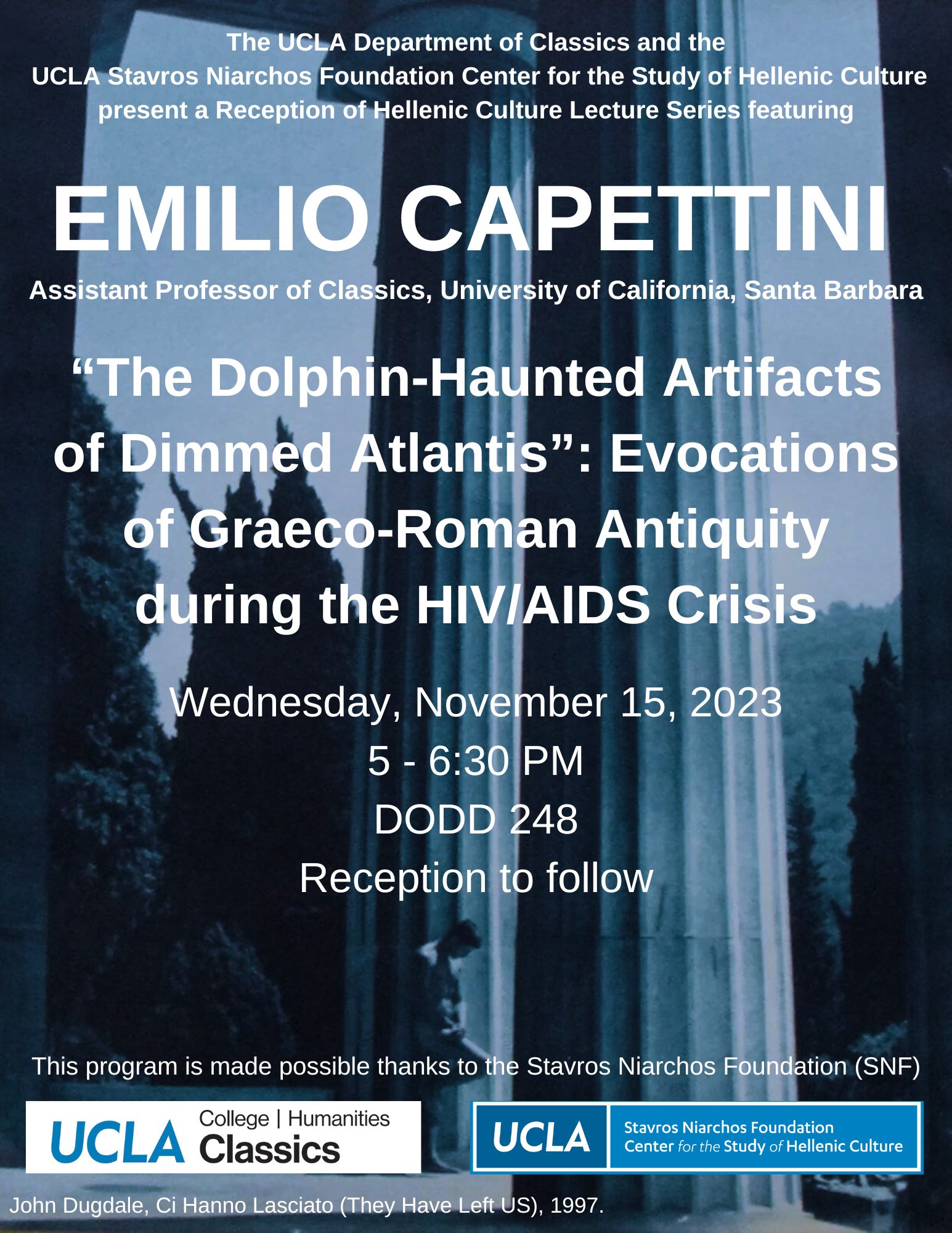 "The Dolphin-Haunted Artifacts of Dimmed Atlantis:" Evocations of Graeco-Roman Antiquity during the HIV/AIDS Crisis
Lecture by Emilio Capettini, Assistant Professor, UC Santa Barbara
Wednesday, November 15, 2023
5:00 p.m.
248 Dodd Hall
Reception to follow
No RSVP required
Reflections on memory and oblivion, erasure and persistence, and fragmentation and integrity pervade the rich output of queer artists and writers in response to the HIV/AIDS epidemic, and the oeuvres of the American writer Paul Monette and of the British "Renaissance man" Derek Jarman are no exception. This talk will examine how encounters, whether real or imagined, with the literary and material remnants of Graeco-Roman antiquity shaped Monette's and Jarman's ruminations over the dialectical oppositions just mentioned, engendering philological and archaeological fantasies that played a key role in the articulation of their artistic practices.
Emilio Capettini received his B.A. and M.A. from the University of Pisa and the Scuola Normale Superiore of Pisa. He completed his Ph.D. at Princeton University in 2016 with a dissertation entitled "An Improbable Symphony: Genealogy, Paternity, and Identity in Heliodorus' Aethiopica." In addition to the ancient novel, he is keenly interested in Greek epic poetry, Greek tragedy, and classical reception studies. At the moment, Emilio is completing a monograph that explores the dynamics of selfhood in Heliodorus' Aethiopica. His next project, provisionally titled "Greek Characters Erasing in the Weather:" Queer Returns to Antiquity during the AIDS Crisis, will examine how, since the early '80s, queer writers and artists active in North America and the UK (e.g., John Dugdale, Derek Jarman, Mark Merlis, and Paul Monette) have turned to the literary and material traces of Greco-Roman antiquity as they have reacted to, and reflected on, the sudden and seemingly inexplicable onset of HIV/AIDS.
The event is the inaugural lecture in the Reception of Hellenic Culture Lecture Series, co-organized by the UCLA Stavros Niarchos Foundation Center for the Study of Hellenic Culture and the UCLA Department of Classics.
This program is made possible thanks to the Stavros Niarchos Foundation (SNF).