Envisioning the Greek Landscape: From Thera to Climate Change Conference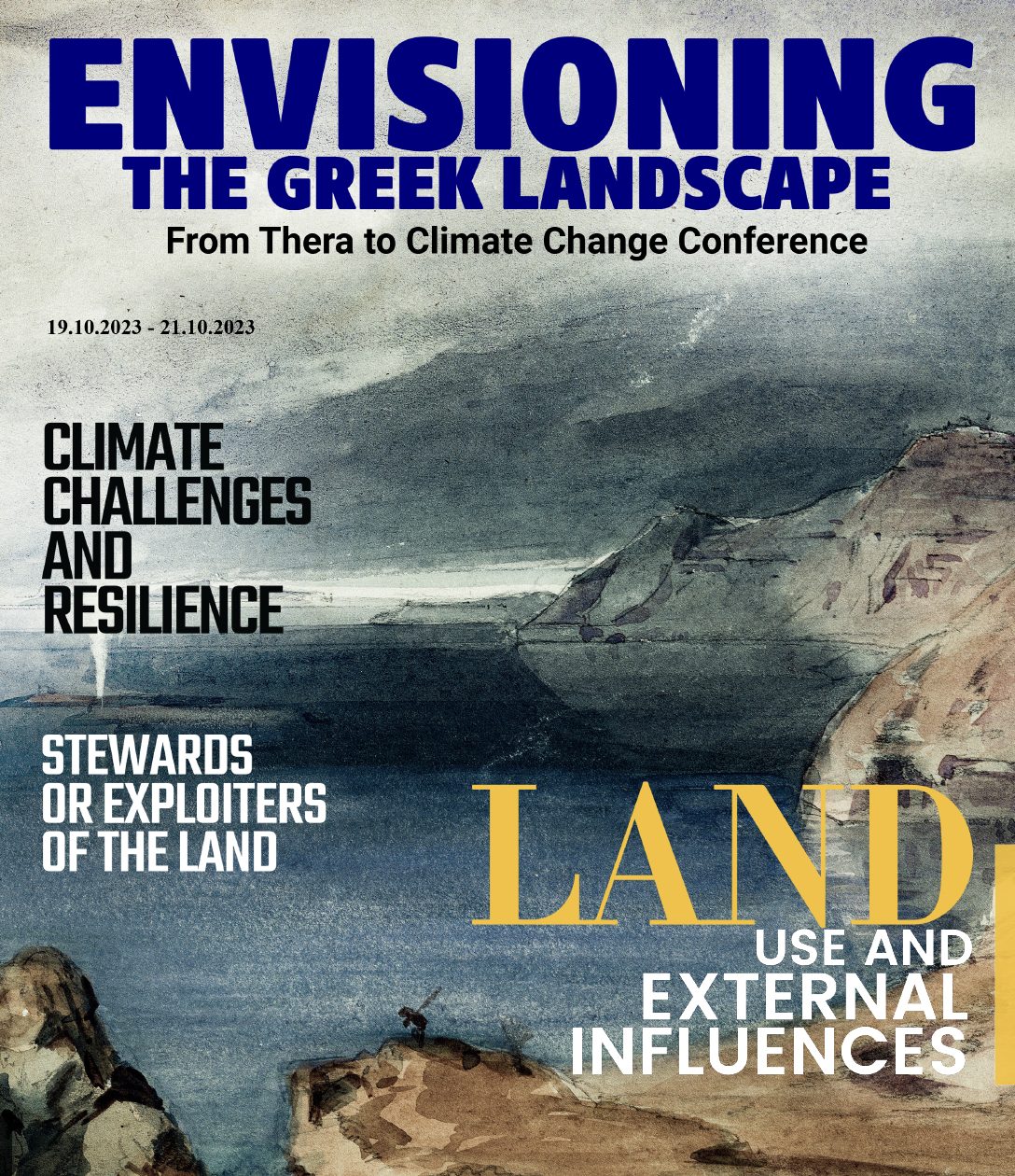 Envisioning the Greek Landscape: From Thera to Climate Change Conference
Organized by Professor Katerina Lagos, California State University, Sacramento and Professor James Horncastle, Simon Fraser University
October 19, 2023 – October 21, 2023
Athens, Greece
Kostis Palamas building (University of Athens), and Cotsen Hall (Gennadius Library)
Since ancient times, people residing in the Mediterranean have encountered and confronted climatic challenges, including volcanic eruptions, tsunamis, fires, and drought. Over the millennia, the Greek people have dealt with the health, demographic, and economic consequences of environmental change, offering a variety of solutions.
Today, governments around the world are developing new technologies and policies to mitigate the environmental impact of contemporary society. Drawing lessons from the long Greek experience, this conference will explore the following:
Climate challenges and resilience: fires, drought, poor agricultural production, and how people faced these challenges since antiquity
Stewards or exploiters of the land: in what way has the environment been perceived by various societies, institutions, and rulers.
Land use and external influences: modernized technology versus traditional forms of domestic usage.
The Envisioning the Greek Landscape conference is breaking new ground by exploring the Greek environment through an interdisciplinary and diachronic lens. Academics from different scholarly disciplines and historical periods will address the themes outlined above, examining how the peoples inhabiting Greece, broadly conceived, have responded to these issues. Additionally, the conference will conclude with a policy roundtable so that both academics and policymakers can discuss some of the important issues raised in the scholarly panels. In this manner, the scholars will be extending their influence beyond academic circles. The conference organizers strongly believe that understanding past environmental challenges and experiences can influence or shape contemporary policymaking. Often, earlier historical solutions to environmental challenges can inspire for more ecologically friendly solutions in the present.
The panels will examine topics such as disease, drought, forest fires, earthquakes, and balancing human existence to the surrounding environment. The panels will begin with the ancient period, and then progress to Byzantium, the Ottoman era, the modern Greek state, and then conclude with recent developments. Additionally, institutions such the Orthodox Church, political and economic elites, both domestic and foreign, will be analyzed vis-à-vis their perceived role toward the environment.
Finally, one of the fundamental goals of the conference is to stimulate a new exchange of ideas regarding the Greek environment. With that in mind, the organizers of the conference intend to publish a selection of the presentation papers as an edited volume. This will disseminate the ideas of the conference to a wider audience – both popular and academic – and help foster greater interest in the environment: past, present, and future.
Athens Environment Conference Program
 This event is open to the public to learn more, click here: www.hellenicoutreach.org
Watch the policy panel livestream here: https://www.youtube.com/live/sINBNuwBNcg?si=utBql4HjZ2OlJ9yb
Speakers:
Iosif Botetzagias (University of the Aegean)
John Chryssavgis (Ecumenical Patriarchate)
Jim Crow (University of Edinburgh, UK)
Andreas Doulfis (National and Kapodistrian University of Athens)
Önder Eren Akgül (Kadir Has University, Turkey)
Katerina Gardikas (National and Kapodistrian University of Athens)
Sharon Gerstel (UCLA, USA)
Charis Gerosideris (Prince Mohammad Bin Fahd University, Saudi Arabia)
Athanassios Grammenos (University of Piraeus)
Chris Gratien (University of Virginia, USA)
James Horncastle (Simon Fraser University, Canada)
Stefania Kalogeraki (University of Crete)
Andreas Kakridis (Panteion University of Social and Political Sciences, Athens)
Stefania Kalogeraki (University of Crete)
Anastasia Karakasidou (Wellesley University, USA)
Thanasis Kizos (University of the Aegean)
Stathis Klonaris (Agricultural University of Athens)
Maria Kousis (University of Crete)
Nikos Lazaridis (Sacramento State University, USA)
Katerina Lagos (Sacramento State University, USA)
Georgios Liakopoulos (Max Planck Institute of Geoanthropology, Germany)
Angelos Loukakis (National Centre of Social Research, Athens)
Faidon Moudopoulos-Athanasiou (University of Crete)
Andreas Papandreou (National and Kapodistrian University of Athens)
Maria Paschou (University of Crete)
Socrates Petmezas (University of Crete)
Ruben Post (University of St. Andrews, UK)
Niki Tsironi (National Hellenic Research Foundation, Athens)
Nikos Tsivikis (Institute of Mediterranean Studies, Crete)
George L. Vlachos (EIE, National Institute of Research, Athens)
Cristiano Vignola (Sapienza University, Italy)
Justine Walter (International University of Applied Sciences, Germany)
Sam White (University of Helsinki, Finland)
Bonna Westcoat (American School of Classical Studies at Athens)
This event is supported by the Stavros Niarchos Foundation (SNF).