Session 2: Perspectives on Gender and Sexuality
Date: June 18, 2021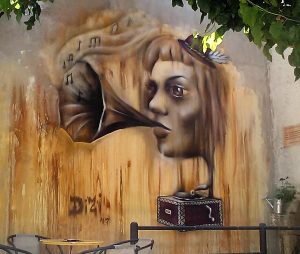 Street artwork on Lakkos Square, untitled, by Dizi Alex.
The second session of Ergastirio, co-hosted by Prof. Artemis Leontis (University of Michigan), explored representations of gender and sexuality in Greek American writing.
The following two sources served as the departure point for the conversation:
Joanna Eleftheriou's "Black Stone," Erγon (25 August 2019)
Annie Liontas' Let Me Explain You, Simon and Schuster (2015)
The two authors, Eleftheriou and Liontas, joined the discussion. For further information, please see:
Cover Image: We thank Dizi Alex for giving us permission for publication.