Helen Angelomatis-Tsougarakis, Professor Emerita of History, Ionian University "Fighters and Victims: Women's Lives during the Greek Revolution"
April 10, 2021 @ 10:00 am
-
12:00 pm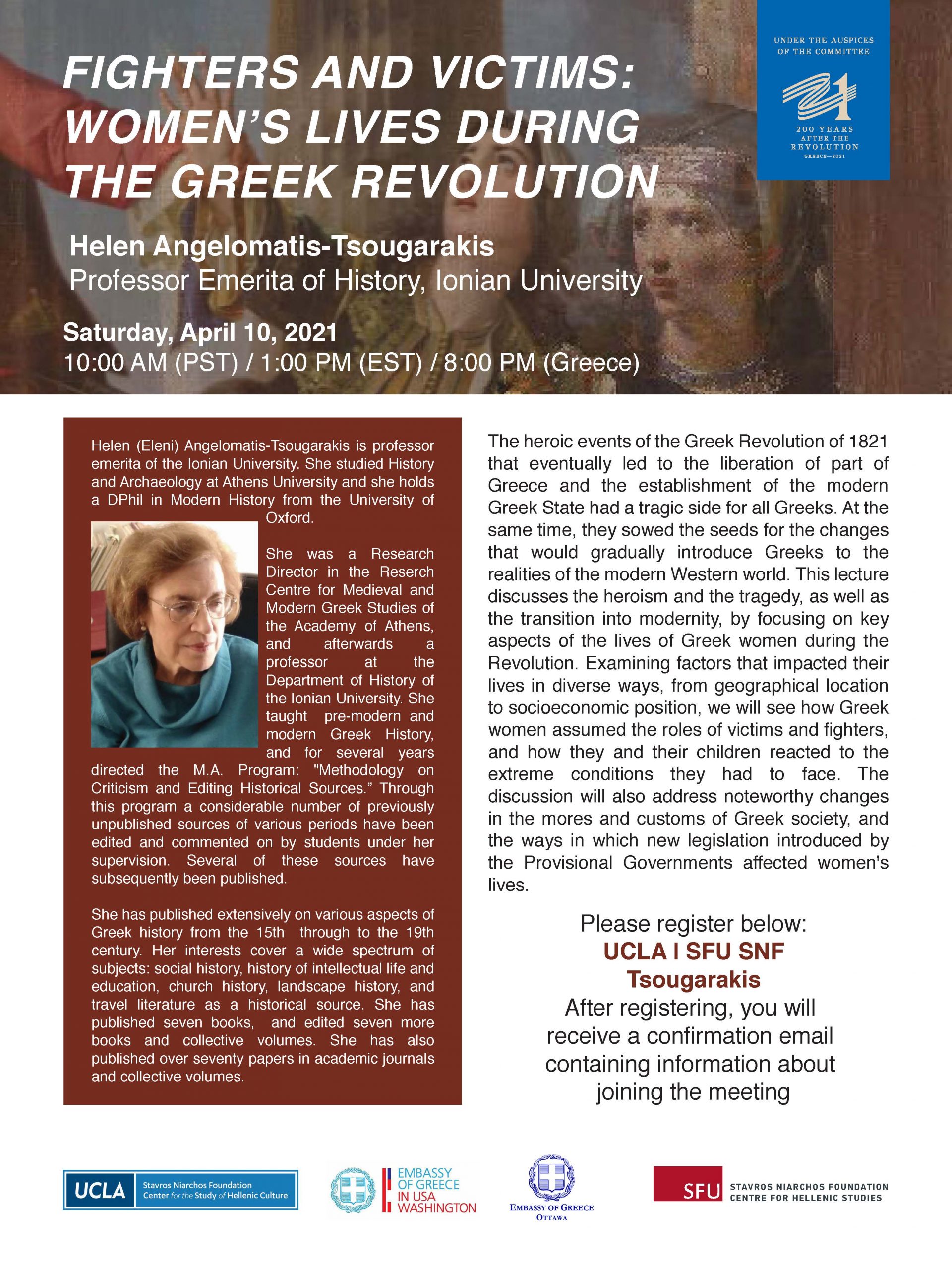 The heroic events of the Greek Revolution of 1821 that eventually led to the liberation of part of Greece and the establishment of the modern Greek State had a tragic side for all Greeks. At the same time, they sowed the seeds for the changes that would gradually introduce Greeks to the realities of the modern Western world. This lecture discusses the heroism and the tragedy, as well as the transition into modernity, by focusing on key aspects of the lives of Greek women during the Revolution. Examining factors that impacted their lives in diverse ways, from geographical location to socioeconomic position, we will see how Greek women assumed the roles of victims and fighters, and how they and their children reacted to the extreme conditions they had to face. The discussion will also address noteworthy changes in the mores and customs of Greek society, and the ways in which new legislation introduced by the Provisional Governments affected women's lives.
Helen (Eleni) Angelomatis-Tsougarakis is professor emerita of the Ionian University. She studied History and Archaeology at Athens University and she holds a DPhil in Modern History from the University of Oxford. She was a Research Director in the Research Centre for Medieval and Modern Greek Studies of the Academy of Athens, and afterwards a professor at the Department of History of the Ionian University. She taught pre-modern and modern Greek History, and for several years directed the M.A. Program: "Methodology on Criticism and Editing Historical Sources." Through this program a considerable number of previously unpublished sources of various periods have been edited and commented on by students under her supervision. Several of these sources have subsequently been published.
She has published extensively on various aspects of Greek history from the 15th through to the 19th century. Her interests cover a wide spectrum of subjects: social history, history of intellectual life and education, church history, landscape history, and travel literature as a historical source. She has published seven books, and edited seven more books and collective volumes. She has also published over seventy papers in academic journals and collective volumes.
To participate in this event, RSVP here.