Marinos Pourgouris, University of Cyprus, "Odysseus Elytis: The Poet as Philosopher"
April 17, 2021 @ 10:00 am
-
12:00 pm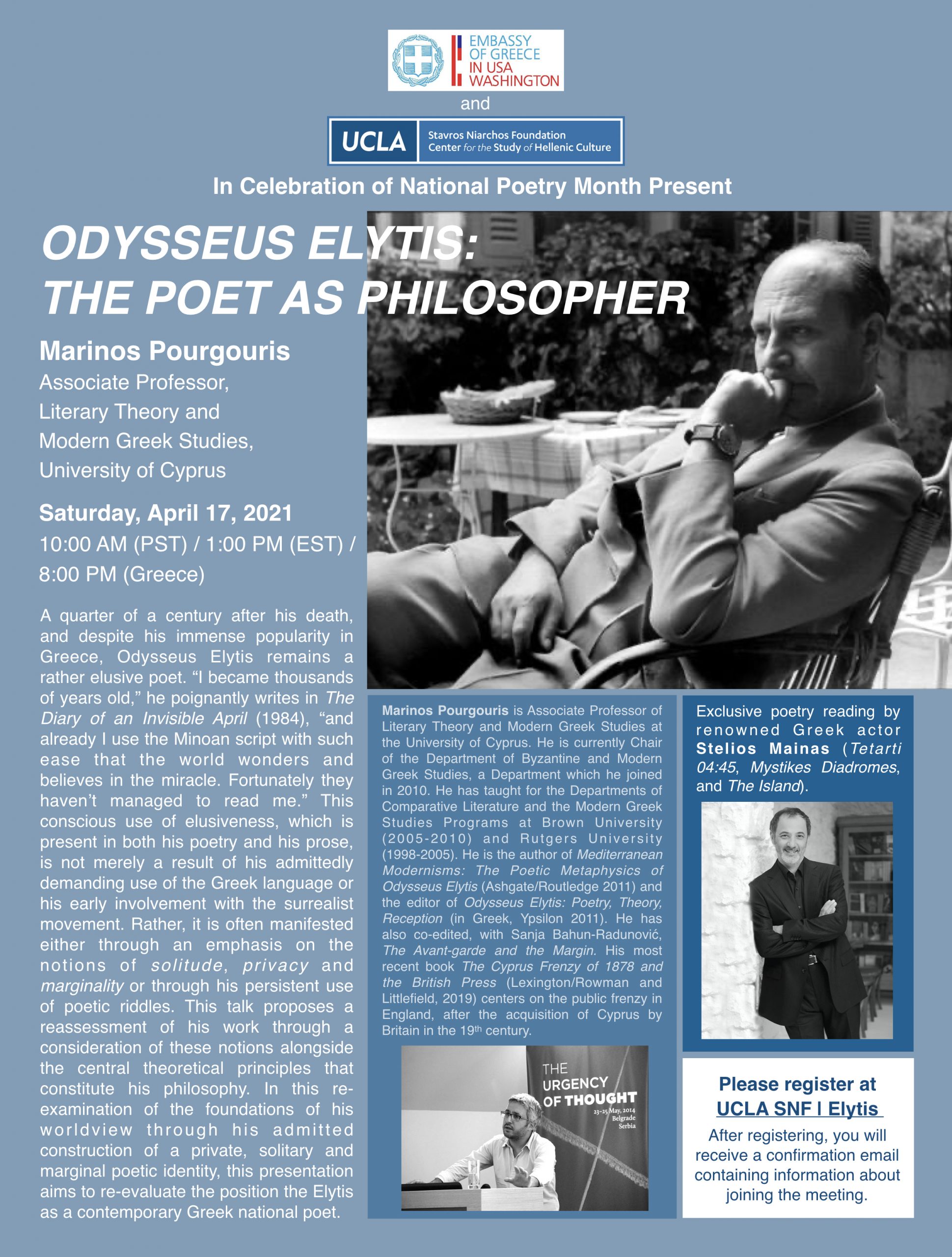 In celebration of National Poetry Month, the Embassy of Greece and the UCLA SNF Hellenic Center present Odysseus Elytis: The Poet as Philosopher.
A quarter of a century after his death, and despite his immense popularity in Greece, Odysseus Elytis remains a rather elusive poet. "I became thousands of years old," he poignantly writes in The Diary of an Invisible April (1984), "and already I use the Minoan script with such ease that the world wonders and believes in the miracle. Fortunately they haven't managed to read me." This conscious use of elusiveness, which is present in both his poetry and his prose, is not merely a result of his admittedly demanding use of the Greek language or his early involvement with the surrealist movement. Rather, it is often manifested either through an emphasis on the notions of solitude, privacy and marginality or through his persistent use of poetic riddles. This talk proposes a reassessment of his work through a consideration of these notions alongside the central theoretical principles that constitute his philosophy. In this re-examination of the foundations of his worldview through his admitted construction of a private, solitary and marginal poetic identity, this presentation aims to re-evaluate the position the Elytis as a contemporary Greek national poet.
Marinos Pourgouris is Associate Professor of Literary Theory and Modern Greek Studies at the University of Cyprus. He is currently Chair of the Department of Byzantine and Modern Greek Studies, a Department which he joined in 2010. He has taught for the Departments of Comparative Literature and the Modern Greek Studies Programs at Brown University (2005-2010) and Rutgers University (1998-2005). He is the author of Mediterranean Modernisms: The Poetic Metaphysics of Odysseus Elytis (Ashgate/Routledge 2011) and the editor of Odysseus Elytis: Poetry, Theory, Reception (in Greek, Ypsilon 2011). He has also co-edited, with Sanja Bahun-Radunović, The Avant-garde and the Margin. His most recent book The Cyprus Frenzy of 1878 and the British Press (Lexington/Rowman and Littlefield, 2019) centers on the public frenzy in England, after the acquisition of Cyprus by Britain in the 19th century. 
To participate in this event, RSVP here.