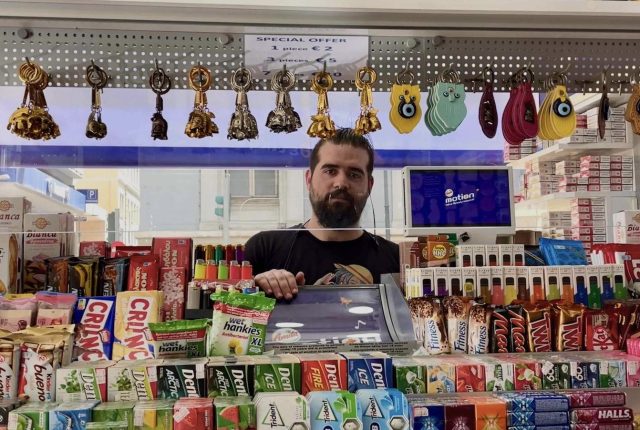 Karla Paniagua Barajas, an undergraduate history major at California State University, Sacramento, has been awarded first place in a photo competition organized by the West Coast Consortium of Hellenic Studies Programs. The subject of this year's competition was periptera (kiosks), in Greece. Paniagua Barajas' winning photo was entitled Kindness.
In Greece, kiosks sell various items, including newspapers, magazines, snacks, and beverages. They are traditional fixtures of the Greek urban landscape. In recent years, however, their number has waned substantially. Of the 9,904 kiosks found across Greece in 2010, only 4,985 remain open for business today. The reduction in their number makes their documentation imperative.
Paniagua Barajas, who was studying abroad in Florence, Italy, at the time of the competition said, "As my semester ended, I wanted to take one last trip before leaving Europe, and I visited Corfu with a friend because we both grew up reading about Greek mythology. On my way back to Italy, however, I had a short layover in Athens and decided the risk of missing my flight was worth getting to know Athens." It was during this detour that Paniagua Barajas took her winning photo.
Paniagua Barajas beautifully depicted a peripteras, a kiosk owner who, in addition to selling everyday items, also provided directions and assistance to Paniagua Barajas who was late to catch a flight. Her story serves as a poignant reminder of the central role of the peripteras in daily life, a role that has been enshrined in popular literature and music.
Anika Sosa of the University of California, San Diego, and Nikitas Politis of the University of California, Santa Cruz received honorable mention in the competition. Sosa's photograph, Classical Traditions, Modern Connections, spoke to the periptero being part of the rich fabric of Greece and how often scholars visiting Greece to learn about its ancient history become enriched by its modern culture. Politis' photograph, The Evolution of Periptera and Greece, highlighted intercultural exchanges in Greece and the burgeoning popularity of Asian cuisine, as advertised on a sign at a periptero.
The West Coast Consortium of Hellenic Studies Programs, which sponsored the competition, brings together a diverse group of faculty members and directors from universities along the Pacific, both in the United States and in Canada. The Consortium is coordinated through Gefyra ("Bridge"), a partnership between the Stavros Niarchos Foundation Centre for Hellenic Studies at Simon Fraser University in Vancouver and the UCLA Stavros Niarchos Foundation Center for the Study of Hellenic Culture. The mission of the Consortium is to foster collaborations across universities and to create new educational opportunities for students and community members interested in Hellenic ideas, arts, and culture.
To find out more about the Hellenic photo competition, visit: https://hellenic.ucla.edu/hellenic-studies-photo-competition/.